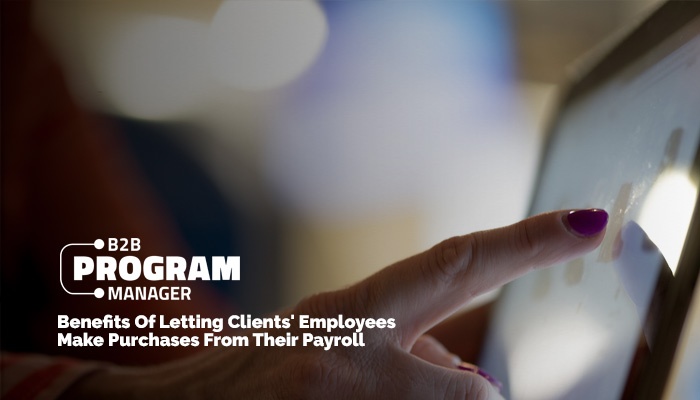 When designing private portals for uniform customers, efficient payments should be your top priority. Not only does payment efficiency allow you to collect your revenues quickly and effectively, but it also makes clients more confident about their purchases. The easier it is for your customers to pay for their gear and confirm that the funds have gone through, the less worried they will be about outstanding obligations. They will thus come to see ordering your uniforms as a stress-free process, making them more likely to work with you in the future.
In order to establish payment efficiency, you need to tailor your ledger options to the specific needs of your clients. While every client's requirements are different, certain methods are likely to suit a wide range of different buyers. In particular, if your clients allow their employees to order gear, authorizing payroll deductions is the key to making payments efficient and convenient.
The Benefits of Payroll Deduction Payments
Payroll deduction payments occur when your clients set up their payroll system to cover the cost of uniforms and gear. Typically, those funds will be tied to a specific employee's purchases and pay, taking money in accordance to the specific amount that worker spends. This has a number of advantages for business clients, including:
Guaranteed Payments- Because your clients are likely to have money in their payroll accounts at all times, there will never be a question of having enough funds in place to cover employees' uniform needs. This allows clients and their employees to order gear without worry, while you can be confident that you will receive the requisite payment for every uniform you sell.
Employee Responsibility- Businesses that authorize their employees to order uniforms on their own are often wary that those employees will spend too much money. They can punish such workers by docking their pay, but not all businesses notice unnecessary purchases, and even when they do, it can take time to confirm that they were truly superfluous. But with payroll deductions, employees will be spending their own money on gear. They thus have a strong incentive not to make unnecessary purchases, and if they do so anyway, they are the only ones who will suffer.
Alternative Funding- Even if clients don't choose payroll deductions as their primary method for purchasing uniforms, they may still value it as an alternative. If clients purchase points and use them to pay for gear, for example, they can set up payroll deductions to kick in if they run out of points. This ensures that no matter what happens with their accounts, clients will be able to keep ordering the gear they need without skipping a beat.
Whether they use them for all uniform purchases, specific items, or purchases over a certain amount, clients will appreciate having payroll deductions as an option. For more information on using this tool and other uniform and gear payment methods, contact UniformMarket today.