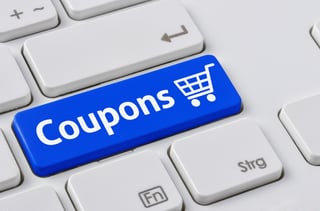 Online coupons can be a boon to your company as a way to increase conversions. But, if you don't know how to use online coupons correctly, these discounts can end up having a negative impact on you business. Instead of simply rushing into the latest fad, it's best to keep abreast of online coupon best practices. In this post we'll outline five do's and don'ts of using online coupons.
DO Have a Way to Track Redemptions
Having an online coupon code is a great way of tracking the number of offers that have been redeemed. This will also give you a good indication of how your customers are responding to the offer you've presented. More redemptions mean they love the deal and that product is valuable to them, less and maybe you should try discounting another product. But your coupons should also capture information from those using them. Having customers fill out a form that captures information like their address, industry, and company name is very valuable marketing information. For uniform retailers knowing how many employees work at the company or agency your shopper works for could be valuable information as well.
DON'T Be Vague about the Terms and Conditions of Use
If you have any restrictions or limitations on your offers be extremely clear about them. Not thinking about how you want or don't want your offers to be used will ultimately frustrate your customers—especially when they're ready to purchase and you tell them they can't use the offer they way they've intended.
DO Set an Expiration Date for Your Offer
You know the feeling: you see a coupon is expiring, and rather than let the discount go to waste, you make a purchase—even if it's something you don't necessarily need. Expiration dates create urgency. It also helps be even more clear about your coupon terms.
DO Offer Something of Value
A coupon without an enticing offer isn't going to yield many results. Instead, create your coupons around something you know your customers will want. Perhaps it's an offer of bonus products—buy three scrubs tops, get one free. Or a free gift that can be used to enhance the experience of the product purchased—buy these tactical boots and get a pair of moisture wicking socks for free. It can also be for cash value, like free shipping on orders over $100. Whatever the coupon offers, make sure that it is straightforward and not deceiving to customers.
DON'T Offer a Discount or Coupon That Doesn't Make You Money
Before deploying your coupon, take a look at your margins and finances to determine what your business can reasonably offer as a discount. If, for example, you have low markups, offering 50% off doesn't really make sense. You'll also need to think about the offer in relation to the amount of redemptions you may receive. Think about how many offers should be redeemed before you start losing money.
Before you move forward with an online coupon strategy, make sure you have a good handle on how to best utilize them. Ensuring they work within your profit margins while still offering the customer something worthwhile will allow you to effectively attract more customers. In turn, this can lead to higher sales and increase brand loyalty.