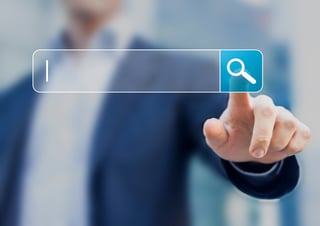 In the modern era, Google is a powerful brand that offers tools which are critical pieces to your digital marketing success. One of these tools is Google's AdWords, a self-service programmatic pay-per-click advertising platform. When you use it, your ads are displayed both on the Google Display Network (GDN) and on search results pages according to your budget and other parameters. In today's post, we'll touch on why you should be using this tool, a few strategic tips, and how to get started with Google AdWords.
Should You Be Using Google Adwords to Promote Your Uniform Market Store?
There's so much to juggle when it comes to digital marketing, from Search Engine Optimization and Search Engine Marketing to whether to invest in display ads or social media. You might be asking yourself, "Should I be using Google AdWords for my uniform store?" The answer is a resounding yes.
Roughly 80% of search results include AdWords placements, but that doesn't mean much if there aren't conversions to back up its usefulness. On average, AdWords provides 2.7% conversion through search and .89% conversion through GDN (Bear in mind that the CTR for display advertising is only .17%). This success can be attributed to some of AdWords' characteristics:
Only paying for results (i.e., clicks).

Tracking a number of metrics to gauge success, which can be used to determine ROI for each campaign effort.

Targeting long-tail keywords to better focus on user intention.

Targeting based on location, both broadly (nations) and narrowly (within a specific radius around your business).

Providing data to Google's servers that ensures your business' relevance to local and mobile search, and includes your business address and contact information.

Optimizing where, when, and how your ad is seen according to your budget.

Remarketing effectively utilizing data.

Continuing to innovate and

offering new features

, including call-only campaigns (i.e., campaigns targeting mobile users who do searches with the plan to immediately call the business), TrueView, and ad extensions.
Getting Started
Step 1: Create Login
Navigate to the

AdWords website

, then click

Start Now

.

Enter the appropriate business email address.

Create a password. (Remember to choose something secure.)

If this is also your first Google account, a verification email will be set. Follow the instructions in the email to verify the account.

Once verified, return to the Adwords website and log in.

Click Create Campaign button.
Step 2: Target Region
Navigate to

Campaign Settings

, then select

Audience

.

Select which countries, regions, cities, etc. that you would like to either include or exclude from your campaign.

You can also define the language for your campaign in this menu.
Step 3: Set Budget
Navigate to the

Bidding and Budget

menu under

Campaign Settings

.

Set the amount of money you want Google to spend on serving your ad to users per day, which automatically optimizes for maximum clicks per day.

Note:

If you're unsure about how large or small of a budget you should be using, remember that you can adjust your budget goals. Start with a reasonably small budget (e.g., between $5 and $10) and optimize your campaign based on your results.
Step 4: Create Ads, Select Keywords
Click the

Ads

menu, then create a new ad.

Select the type of ad you'd like to run; anything other than a Text Ad or Call-Only Ad will require you to have additional content (e.g., images, video) ready to add.

Enter the ad title, at least one line of text, and the URL of the landing page for your campaign.

Click the

Keywords

menu, then add keywords at the top of your keywords table.

Be sure that the correct campaign and ad set are selected.

Type the keyword directly into the box. Only add one keyword per line. (

Note

: Remember that long-tail keywords can contain more than one word.)

Click

Save

.

Note:

If you're unsure about how many keywords you ought to be using, start with between 10 and 20. You can add or remove keywords later in order to optimize your campaign.
Step 5: Enter Billing Information
Navigate to

Billing

and select

Billing Preferences

.

Select the appropriate billing options and enter your business billing information. This can be updated at any time. Promotional codes can be added after you've added this information for the first time.

Review the Terms and Conditions, then check that you accept them.

Click

Save and Activate

.
Bonus: Results You Can Use
Thanks to the metrics you can analyze and the complete control you have over your campaign, you can easily identify what is and isn't working within each campaign. This provides the opportunity to A/B test each facet, and thus fully optimize your campaign for the best ROI possible. You'll be able to save money by dropping what's not working and improve revenue by promoting what is working.
Tips for Success
Below you'll find some best practices for how to strategically use AdWords most effectively. These are some core concepts, not step-by-step tips for using the AdWords interface.
Never try to out-spend your competition. This isn't to say that you should never actually outspend your competition, rather, if you do outspend them it should be as a result of something much more effective: out-

thinking

your competition.

Use your competition to find new opportunities. For example, is there local or regional search criteria they're not utilizing? Get specific with town names, counties, states, and other pertinent geographic details; by turning those into keywords, you'll earn more valuable clicks for less money.

Don't leave your budget or campaign dates open-ended. A "set and forget" approach is a good way to waste money on inefficient and ineffective campaign tactics. Instead, have definitive starting and ending dates in order to force you and your team to evaluate results and re-optimize.

Remember that not all members of your audience (or even an audience segment) are exactly the same. Variety in your ad tactics will broaden your audience and most effectively reach different kinds of people in different ways at different times. For example, a straightforward image might reach one type of customer extremely effectively, while a humorous video ad is the best way to reach another.

Always be experimenting. This leads to continual improvement and innovation.

Take advantage of Google's other tools:

Keyword Planner

and

Google Analytics

. These will enhance your efforts and offer more robust results.
Of course, all of this is a basic outline for how to get started with Google AdWords, as it is now. This doesn't touch on any of the more advanced tactics the platform offers, nor does it encompass any of the changes that Google plans to roll out during the next year to its processes and interface. Fortunately, you don't have to develop your complete AdWords strategy alone.
Contact us today to find out more about what UniformMarket can do for more information about AdWords or our services. You can call us at 847-656-5770, or use our online form to discuss your unique needs.