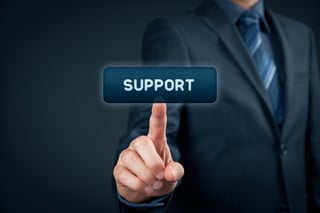 One important aspect of running a business is making sure your customers are taken care of. If you sell medical equipment alongside your uniforms, your customers will have questions and problems they expect you to solve.
We've listed five media your customers are likely to ask questions on, as well as some tips on what to do and what to avoid. Remember, the way you and your employees represent your company through these media will form your business' reputation.
Email
Email is one of the most common forms of communication, so be ready to do a lot of your customer service via email.
Do:
Be professional in your language and conduct.
Include a signature line with your contact information.
Check for proper grammar and spelling.
Don't:
Speak casually (avoid emojis and slang).
Take longer than 24 hours to respond.
Phone
Even with the wonders of modern technology, some customers will still want to call you on the phone.
Do:
Actively listen.
Repeat the problem back to your customer for clarification and confirmation.
Don't:
Interrupt them. Even if you think you understand their issue before they're done explain, they won't feel like you respect what they have to say.
Talk down to them. What might seem obvious to you may not be so clear to your customers. Be patient with them and help them understand how to resolve their issue.
Chat
Chat is a great platform that allows you to instantly address questions, provide resources and links, and advise clients on using your site.
Do:
Answer questions quickly.
Use positive phrases.Your customers want to know what you can do to help them, not what you can't do. Focus on your capabilities and they will too.
Don't:
Immediately refer them to another platform. Try to answer questions and resolve their issues in the chat.
Promise something you can't deliver. If you don't know how to resolve their issue, don't make something up to keep them happy.
Use acronyms. It's likely that your customer won't know what you are referring to, and since acronyms can stand for several things, it's best to spell it out from the get go.
Blog
Blogs are some of the best ways to address common concerns, questions, ongoing site problems, or issues with your products. A blog is an easy way to measure how your customers are interacting with you and what they want to hear about.
Do:
Write clearly and concisely.
Include follow up information and dates when potential issues will be resolved.
Use analytics to track what posts are being read.
Don't:
Let bad grammar and spelling made you look unprofessional.
Post apologies without a resolution to the issue.
Ignore comments on your posts. Your customers will feel like you don't care about what they have to say. Take the time to thank them for reading if you can't think of anything else to say.
Social Media
Social media is great for immediate, real-time assistance. Many of your customers already use social media in their personal lives, so having an active presence there can go a long way to representing your brand in a positive light.
Do:
Respond within six hours.
Publicly reply with instructions on where your customers can go for assistance.
Don't:
Ignore or block users. Even if they are frustrating to work with, try to keep your temper and address their complaints.
Try to resolve the issue over social media. It's likely the conversation will need to go back and forth for some time. Use social media to acknowledge their concern, and then to move the conversation to chat, phone or email.

UniformMarket is committed to helping your online uniform store grow. Contact us today to see how we can assist you as you expand your business.