A Checklist For Standing Out When Selling Uniforms:
A Wide Selection of Color Choices
Performance Enhancing Features
Considering The Laundry Method
Uniform Repeat Orders
Know The Roles of Employees
Whether you need assistance in an emergency room or help finding your seats at a concert or a sporting event, chances are whomever will assist you is wearing a uniform.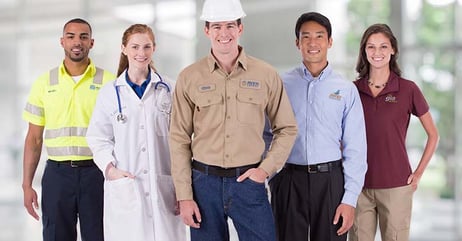 Aside from being helpful in identifying who works where, they are also help further establish a brand's aesthetic and overall mission of the company. However, there are a lot of subtleties to deciding the best uniform for a customer, some that wholesalers may not anticipate.
With that being said, here are five things that distributors should keep in mind when it comes to providing their clients with uniforms that fit their needs.
A Wide Selection of Color Choices
Color schemes can be a driving force in uniform choices and become synonymous with a brand itself.
With more and more companies choosing colors that help enhance their logos or themes, it's critical to offer a wide choice of color options - and offer them in both top and base attire pieces for color-coordinated looks.
Performance Enhancing Features
Adding performance enhancing features to your uniforms that enable employees to carry out their responsibilities all the more easily can be a key selling point.
If you're selling uniforms that are geared toward the hospitality industry, the fabric should be soft and easy to care for.
They should also be wrinkle-resistant. Stain-release and moisture-wicking fabrics should also be considered if the uniforms will be worn in hot work environments, like a kitchen.
Stain-release and repellent-textures are necessities of any regalia that need to stay spotless and fresh for the duration of the day.
Uniform distributors should be aware at all times of what regulations impact the industries of their clients. Some features aren't just for looks, they're also mandatory.
Consider The Laundry Method
All customers need clean garments; however, seeing how those garments will be cleaned is an unquestionable requirement while picking the best possible uniform.
How a uniform will be washed also should affect the kind of imprint used. That's where the laundry method comes into play.
Numerous organizations use embroidery as a way to improve personalization and nature of the uniform, but let your embroiders know how your customers will wash the articles of clothing.
Uniform Repeat Orders
As a distributor, the key to keeping your customers is developing relationships with them while providing excellent customer service - which means understand your clients' habits and anticipating their needs.
Keep in mind that uniform recurrent requests may follow unexpected timetables in comparison than what you're normally used to.
Employee turnover happens everyday in the business world, and how rapidly you can get another uniform to that customer will decide your success for uniform repeat orders.
Know The Roles of Your Employees
A construction worker, a nurse and a waitress could never wear the same uniform to work.
Distinctive conditions face diverse requests.
The same can be said for their uniforms, and once in a while, even unique positions inside those environments require distinctive wardrobes - which is why a distributor knowing the roles of the employee who'll be wearing specific uniforms is imperative.
The key to any uniform deal is picking the correct articles of clothing for a specific use.
For example, corporate level uniforms should consist of higher quality fabrics, like cotton and cotton/poly blends, as they are not in dirty environments or in need of constant washing.
Environments that are subjects to stains, like restaurants or a kitchen, polyester or polyester blend fabrics should be considered as they provide more durability and less shrinkage.
If you're new to selling uniform programs, it can be tricky to master the nuances of said programs throughout multiple industries.
It's best to start small and take one department at a time.