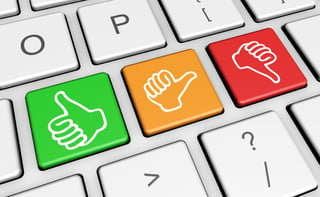 Testing out a new product? Seeking feedback about your customer service? Whatever your reason, there comes a time when all uniform businesses can not only benefit, but gain incredible insight from a customer survey.
One of the most effective ways to conduct a survey is online. In this article, we're going to outline the types of survey you can create as well as show you how to create meaningful surveys to improve customer service, brand perception, and uniform products.
Ready to get started? First, let's take a look at your delivery…
Online Survey Tools
There are lots of of easy-to-use online survey tools available to small businesses to help them create a customer survey. Many of these tools are free, with the option to upgrade for more powerful features. On these survey sites you'll be able to conduct market research by crafting a unique survey tailored to your needs. You'll be able to create, edit, and analyze each survey more effectively. Some surveys even allow customization of the template so that your logo and company colors are prevalent, making the survey feel like an extension of your website.
One of the most widely used tools is SurveyMonkey, however many new options have popped up in the market including ZOHO and Polldaddy, all with flexible features and full-featured polls and surveys. If you're already using Google Docs, Google Sheets, and Gmail, it's hard to not consider Google Forms the obvious choice for building free forms and simple surveys. It's built right into your Google Apps experience, incredibly intuitive, and best of all — you can save responses to a Google Sheets spreadsheet automatically.
Types of Surveys
Now that you've picked the appropriate tool, it's time to get down to brass tacks. There are many types of surveys to give customers, but it's important to remember to keep them short and to the point. Many times, customers do surveys with nothing in return — don't waste their time or you might lose them (and their valuable feedback) halfway through.
First, define your goals. What is it you're trying to accomplish? Make sure you can clearly answer that question before you craft your questions. Once you've got that defined, there are a multitude of survey:
Customer Service / Satisfaction Survey
Customer satisfaction is a quantifiable measure of how well your product or service met your customers' expectations. You'll want to measure their satisfaction at a general and specific level using both open and closed-ended questions with rating scales.
This is a good survey to conduct once a uniform purchase is complete to better understand the buyer's experience during the sales process. This will help to identify areas of improvement and can highlight areas of weakness or bring things to your attention that you may have not been aware of.
Brand Usage Surveys
These types of surveys help determine how consumers utilize your business and shop with you. For example, maybe certain customers are only buying 5.11 Tactical boots from you but are buying their Bulwark fire retardant uniform items elsewhere. Sending a survey to customers who have not ordered in a while can identify potential ideas for how to improve something that is holding back customers from re-ordering, or ordering more.
Brand Perception Surveys
These types of surveys will give you an understanding of how shoppers view your business and why they chose to shop with you. You can use open ended questions here to allow survey-takers to share their perception of your brand or the uniform brands you sell, and ask what they like about them and how you can improve the customer experience.
Audience Surveys
You can utilize surveys to better understand who your audience is and what they want/need from your online uniform store. Asking questions about your customer's industry, the job titles of the people that order from you, etc. will be used to better market your products and services to similar audiences.
Product Surveys
Utilize these surveys to gather information about specific products your clients have purchased, or gain feedback on new products just launched. For example, implementing a product survey may help you determine if a specific line of clothing typically runs large, something you can then add to the product page to alert new buyers. You can also ask customers if a previously purchased product is something they'd consider buying again (why/why not?)
With day to day tasks piling up, It can be easy to forget to check in with those that matter most — your customers. Even when deadlines loom, great marketers pause for a moment to examine the big picture, a picture one can only see if the view includes market research sourced from customer surveys.
It's paramount to check in regularly with your customers to get their unbiased feedback. Using surveys is a relatively quick, inexpensive (often free), and effective way to measure customers' feelings and experiences along their buying journey. For more information about how UniformMarket can help your uniform business, click here.